How to fit the Equifit BellyBand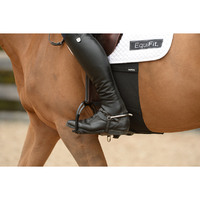 Meet Your New Best Friend! The Equi Bellyband helps protect and guard against spur rubs and sores around your horse's girth and sides.
This invaluable necessity is made with breathable, non-neoprene elastic that offers full- coverage protection. Adjustable Velcro girth loos are easy to put on and take off, and a reinforced safety closure ensures a secure fit. Available in Cob, Horse and Oversize.
---
---
Leave a comment